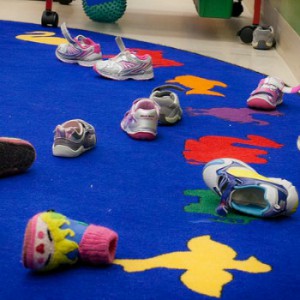 The High Cost Of Childcare In Ireland
30 May 2015
Key Point
The high cost of childcare in Ireland is a barrier to work particularly for lone parents with low skills.
Introduction
The cost of childcare in Ireland is high by international standards. Table 1 shows the out of pocket childcare costs for a lone parent of full-time care at a typical childcare centre for 2012. The figures are after child benefit, tax relief or other benefits. The figures show the net cost as a percentage of net family income.
Table 1. Out of Pocket Childcare Costs for a Lone Parent as a % of Net Income 2012
At % of Average Earnings                               50                      67                                   100
Ireland                                                               42.4                   41.6                                  40.4
EU Average                                                      12.7                   12.3                                  12.5
Source : OECD family Database
Family Structure
Ireland has the highest percentage in the EU of households consisting of a lone parent with dependent children. The share of households in this category is almost twice the EU average. The data is in Table 2
Table 2: Lone Parents with Dependent Children as % of All Households
Ireland                                                          7.1 per cent
EU Average                                                 3.6 per cent
Source: Table A1 Eurostat
Workless Households
This may explain at least partly why we appear to have a particularly high number of households in Ireland with little or no work. The data is in Table 3. On this measure we have the highest incidence of such households in Europe
Table 3: % of Households with Very Low Work Intensity 2013
Ireland                                        23.9
Spain                                           15.7
EU Average                               10.8
Source
Note: The data refers to households with adults aged 18-59 (excluding students aged up to 24) who work less than 20 per cent of their available time.
Of these households 21 per cent are lone parents and 65 per cent of the householders adults have lower secondary education or below1.
Conclusion
The prevalence of "workless" households is a significant social problem. This is a complex issue which does not lend itself to simple solutions. However, the evidence suggests that taking steps to ensure the availability and affordability of childcare may form at least part of the solution.
Notes:
1 Work and Poverty in Ireland: An Analysis of CSO Survey on Income and Living Conditions 2004-2010
Author(s): Watson, Dorothy / Maitre, Bertrand / Whelan, Christopher T. (UCD)