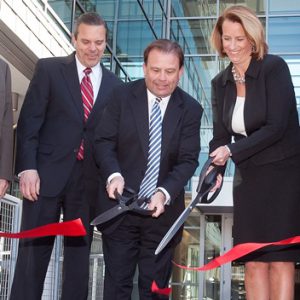 Reforms to Boost Growth
12 Apr 2017
Key Point
OECD recommends reform of the tax and welfare system and cutting red tape to boost growth.
Ireland's Priorities
The OECD publication Going for Growth 2017 notes that the pace of reform has slowed in a number of countries, including Ireland, which have been particularly active in the previous two-year period. It sets out five priorities for Ireland to boost long-term growth, improve competitiveness and productivity, create jobs and ensure a more inclusive economy. These are:
Enhance labour activation policies

The OECD recommends that Ireland should increase resources to labour activation programmes and improve enforcement by defining clearly the suitable job offer that a benefit recipient has to accept in terms of wages and contract types.

Reform the tax and welfare system

The share of low-income households remaining inactive is high. Marginal effective tax rates are high for low income families. The percentage of total labour compensation (marginal labour tax wedge for a single person at 67% of average earnings with 2 children) is 67.9% in Ireland, 50.3% in the EU and 44.5% in the OECD.
The OECD finds that "rapid withdrawal" of housing supports, the Family Income Supplement (FIS), and high marginal effective tax rates reduce incentives to join the workforce.

Strengthen competition in non-manufacturing sectors
Competition in utilities and some service sectors including transport, the legal profession and ports is weak. The OECD recommends that legal costs should be made more transparent.
Enhance R&D spending and innovation
Spending on R&D remains relatively low most activity is undertaken by foreign firms. The diffusion of innovation to smaller, national firms is limited by weak linkages with foreign firms. The OECD recommends direct grants over R&D tax credits to rebalance innovation support. It calls for the establishment of a Research Technology Organisation focussed on SMEs needs.
Reduce barriers to entrepreneurship
The complexity of regulatory procedures is relatively high. On a scale of 1 to 6 Ireland is ranked at 3.4; twice the EU average of 1.7. Continuing to reduce fees and waiting times for licenses and permits to start a new business is recommended.