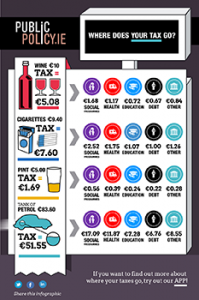 Budget 2013: Cigarettes And Alcohol – Where Tax Goes
14 Oct 2013
We've had a lot of interest in our tax app: Where Does Your Tax Go?  This shows you how your income tax gets spent by the Government – and details the spending to the nearest cent amongst the main spending departments.
Today as it's Budget Day, we decided it would be interesting to show where the tax goes that is spent on cigarettes and alcohol.
There are two types of tax collected:
Excise duty
Value added tax (VAT)
The following infographic shows how much of the money we spend on wine, beer, and cigarettes goes to the main departments.    We made the following assumptions:
A bottle of wine costs €10
A packet of cigarettes costs €XXX
A pint of 5% alcohol beer costs €5.10
Petrol costs are based on the size of an average Ford Focus car (XX litres)
Where Does Your Tax Go Infographic by Publicpolicy.ie.