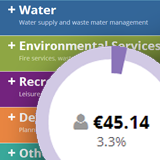 Update to Local Government Finance Web App
13 Aug 2014
We have recently updated the dataset behind our Local Government web app, localauthorityfinances.com. The most significant change is the inclusion of a number of Town and Borough Councils, which give a more accurate picture of local government spending within Counties. Getting access to data on the budgets of Town Councils was an arduous task, made all the more difficult by the transfer of staff from Town Councils to their parent County Councils as a result of their amalgamation under recent government reforms. Many Town Councils for which data was not available unfortunately remain excluded.
While the impact on overall County budgets might be small in some cases, the exclusion of Town Councils invariably distorts the reporting of the sources of revenues and division of expenditures within Counties. Compared to their County counterparts, Town Councils rely more on income from commercial rates and parking fines and spend more on keeping streets clean. Taking parking fines in Meath for example, only €10,000 of the €2,139,797 expected to be collected this year will be generated by the County Council, with the rest coming from Kells, Navan and Trim Town Councils. To find out which Councils are included for each County, download the raw data file here: http://localauthorityfinances.com/download-data/.
I estimate that the App now covers 97% of all Local Government revenues and expenditures. The amalgamation of Town Councils with their Parent County Councils should make Local Authority financial data much easier to access, and it is hoped that future updates will encompass the entirety of Local Government in Ireland.
About author
Related Articles


79 Merrion Square, Dublin 2, Ireland
tel: 353 (1) 676 0414 | email: info@publicpolicy.ie
Company registration number: 504956
Privacy Policy | Chairman's Blog | Events | Video | Public Policy Documents | News Property Tax Ireland | Pension Reform Ireland | Water Charges Ireland