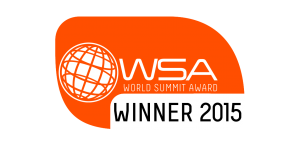 Local Authority Site Wins Prestigious Global Award
19 Oct 2015
We are delighted to announce that our site that delves into how local authorities spend and raise finances, LocalAuthorityFinances.com, has been declared a winner by a a prestigious international award body.
World Summit Awards: Best Government & Open Data Category Award Winner
The World Summit Awards is a UN funded initiative whose focus is on highlighting best practice e-content from around the world.  The awards take place every two years, and LocalAuthorityFinances.com has won its category.
There were two other Irish winners: CoderDojo.com and PledgeSports.org and we would like to congratulate them also.
Prior to this recent success at the World Summit Awards,LocalAuthorityFinances.com also won 'Best New App' at the Irish Web Awards last year.
Visit The Site
Users of LocalAuthorityFinances.com can select their area from a list of local authorities to see how much their local council spends in various categories, including housing, roads, water and environmental services.
They can compare their council's expenditure to the national average, as well as to spending by neighbouring councils.
Users can also see a breakdown of the income received by each council – under categories such as rates, the general purpose grant, and goods and services.